Banks and Credit Unions call it "onboarding:" A series of communications that cultivates the relationship with a new customer and provides an opportunity to (eventually) talk about other services that they could provide for the customer. The rest of us may know this process as a "welcome series," "lead nurture campaign," and "customer loyalty campaign." It's all the same – and it's great marketing automation!
At the 2014 emfluence Marketing Platform User Conference, Jenny Nichols from CommunityAmerica Credit Union and I shared their 5-part, 90 day "honeymoon" onboarding email campaign, complete with successful cross-selling numbers.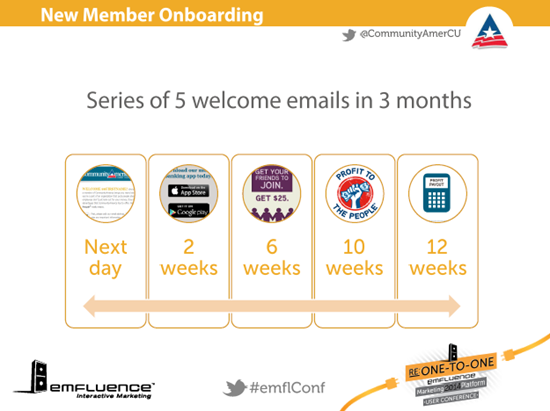 So, how can other marketers – even other industries – apply what CommunityAmerica is doing for their customers? Here's a few take-aways from their campaign that any marketer can apply:
Education about your brand should be front and center in the entire series. Where are your stores? Do you have a mobile app? Why is it useful? How do I reach someone at your company if I have questions? What is your return policy? What's next? These are the questions that new customers ask all the time. While most of these answers may be hidden away in your FAQS section of your website, they are not immediately available to a new customer who isn't searching for them. Providing your new customer with all the information they could want to know about the basics builds a solid foundation of trust.
Automate! Once someone becomes a new customer, your process should automatically welcome them with the right cadence (without fear of human error, or forgetting). Setting up an automated series of emails is simple and provides communication to the customer without tapping staff resources.
Make your content dynamic. CommunityAmerica Credit Union provides their customers with the exact branch and ATM that are most convenient, based on the customer's home zip code. This is a useful way to establish a personalized answer to a common consumer question (and still be automatic).
While we're using dynamic data… CommunityAmerica also assigns variable content blocks in their email series to cross-promote customers into lines of services that may be of interest to them, based on what they already have. For example, new checking customers may see information about opening a savings account.
Track which content or links are getting the most engagement to harness insight about what's interesting and what's working for your customers. Every few weeks, look at content that you might swap in/out, based on what isn't working or what might work. Your answers are all in the metrics!
You can see the full presentation that CommunityAmerica gave below:
Want to get started with an onboarding campaign of your own? Reach out to an expert@emfluence.com to dig into your own customer processes.
---