In March 2018, Instagram officially made life easier for the 70% of shopping enthusiasts – me included –who love social media and shopping online, by combining both interests into one platform and as a result, forever changing the way people shop by providing more than 130 million accounts (and counting) the ability grant their customers with the best shopping experience right from their social feed.
No longer do e-commerce brands that sell physical products have to depend solely on adding a link under their Instagram bio every time they want to drive traffic from an Instagram post to their website, – this is so 2016 – but now the viewer can have a streamlined shopping experience with just a couple of taps.
So How Exactly Do Instagram Shoppable Ads Work?
As it's been simply put: See. Tap. Shop.
Let's use the modern luxury luggage brand, Away, for example.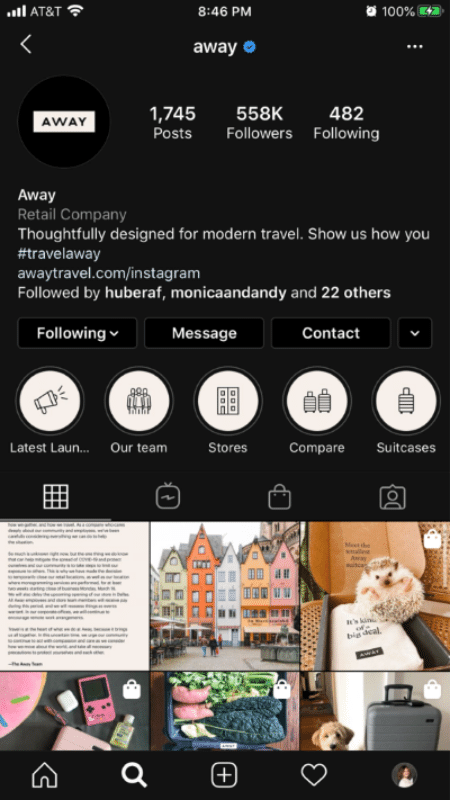 While scrolling through their account, admiring their beautifully designed luggage and falling in love with all the dogs and babies they use as part of their marketing tactic (it's working, by the way), you start to notice they've implemented Instagram Shoppable ads as a standard for all of their relevant posts.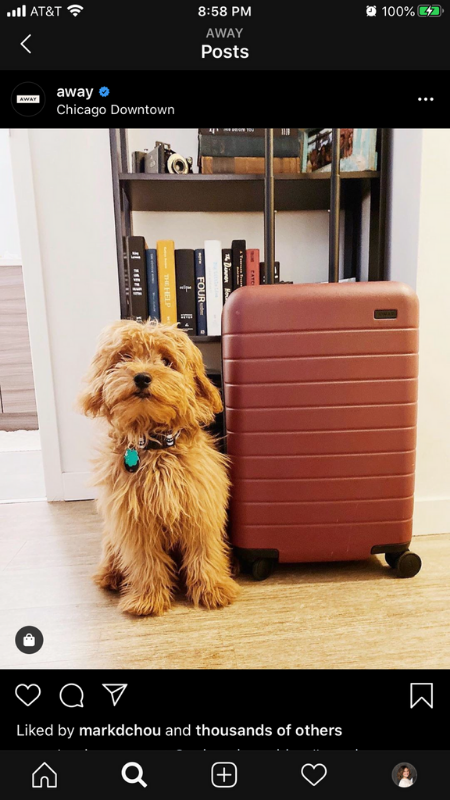 When you click on the post with the adorable pup, you notice a shopping bag icon. There are two ways to view the products promoted on the post.
[Double] Tapping on the shopping bag icon prompts a catalog to appear which you can shop from for all available luggage.
You can tap anywhere on the post to prompt the product tags to appear, displaying the product label and price of the specific product which you can then click on to see a different catalog view to shop from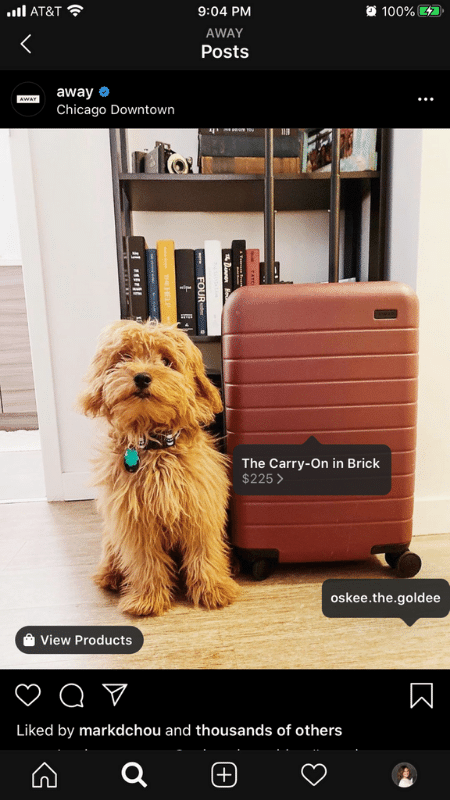 At their leisure, viewers can tap to visit your website and complete their purchase, or they can save it for later with the Save feature by bookmarking your post for a later purchase.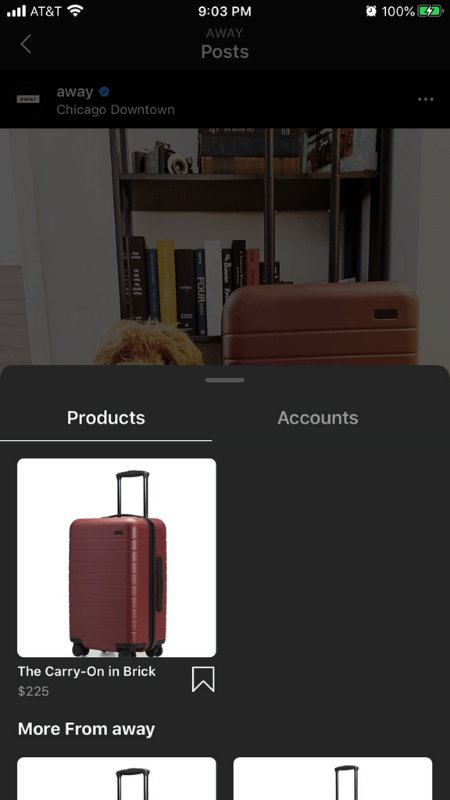 But Do They Work?
We believe Instagram is integral to how our audience is inspired to shop. We're seeing a strong lift in sales conversions whenever we use Instagram Shopping, since tapping to learn about our products has become the norm. – Elisa Kosonen, Senior Manager, Social Media at Aritzia
With over 1 billion active Instagram accounts, 200+ million Instagrammers visit at least one business account a day. Of those, 60% of Instagrammers say that they discover new products on Instagram each month. This makes Instagram a key platform for brands, businesses, and e-commerce stores.
Setting Up Your Instagram Shoppable
Leave it to Facebook for Business to provide you with a quick checklist to follow for getting started with Instagram Shoppable. Here's a quick synopsis of what to expect.
Your Instagram app must be up to date
You must have a Business Profile on Instagram
Must be in the United States, Canada, Brazil, United Kingdom, Germany, France, Italy, Spain, and Australia
You must have a Facebook Page connected to your Instagram account
In Conclusion
Always innovative, Instagram is aiming to become an eCommerce powerhouse, and knows you want to sell more products and raise brand awareness. In addition, Instagram also knows their users. They understand how people spend money online. In fact, 42% of women on Instagram in the U.S. said they love to shop and consider it a hobby.
In short, here are some benefits for incorporating Instagram Shoppable into your eCommerce marketing strategy –
Make shopping easier for consumers
Promote your physical eCommerce products directly
Expose Your Products to targeted audience with a high purchase Intent
---