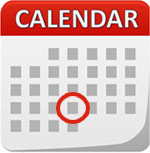 Chances are, if you're a retail marketer anyway, you have your holiday promotions calendar done and have been humming holiday tunes under your breath since August when you started working on the campaigns. But a few of us marketers don't have all our campaigns planned out just yet and Holiday Season kicks off next Wednesday. In fact, some retailers are starting this week since Thanksgiving is a little later this year! Here's a look at the important dates for digital marketers in the 2013 Holiday season: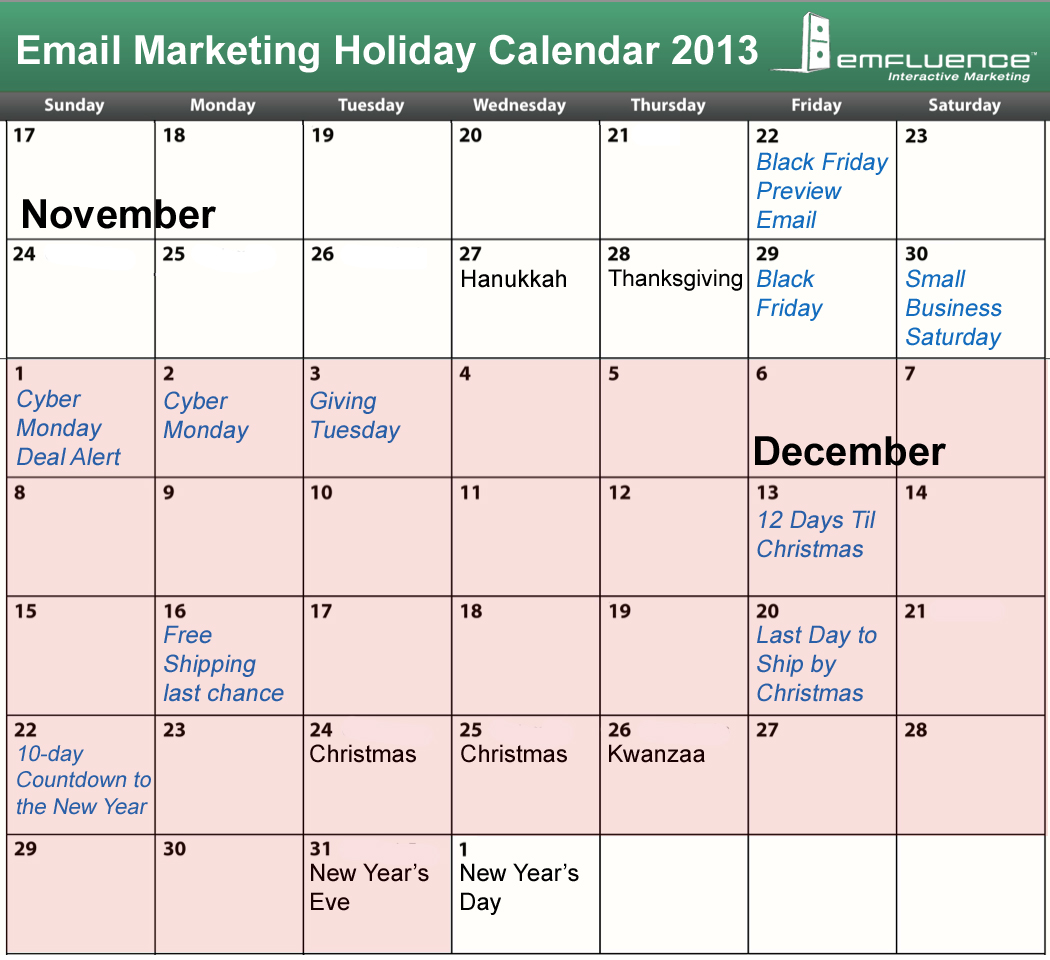 Friday, November 22nd – Black Friday preview email: one week til great deals!
HINT: This can help minimize the effect of slow delivery on your Black Friday campaign if you get held up from hitting inboxes.
Wednesday, November 27th – Hanukkah starts (extra early this year!)
Thursday, November 28th – Thanksgiving
Business-to-Business email marketing pros may want to take it easy on Thanksgiving and the day after (unless you've tested and proven you garner engagement on these days). Business-to-Consumer marketers tend to send emails as early as Thanksgiving for their Black Friday/Cyber Monday deals.
Friday, November 29th – Black Friday
Typically the start of heavy (insane) foot traffic for retailers with physical store locations. Send email campaigns early in the morning to try and get into inboxes before shoppers head out and to (hopefully) avoid getting lost in the inbox clutter that builds up over the course of the day. If you know your shoppers are later risers, send a little later so it's at the top of their inbox when they're ready to head out.
Saturday, November 30th – Small Business Saturday
One of my favorite dates of the holiday calendar: a chance for local stores and vendors to really drive home deals and the perks of buying from a small business. Again: send email early in the day (5:00AM isn't too early!) if you know you need to catch shoppers before shopping hours.
Sunday, December 1st – Cyber Monday deal alert/sneak peek
As the biggest online shopping day of the year is the following day, you'll want to tease your deals and specials, be sure your customers know what they can expect before their inboxes are overloaded. Keep your emails deal-focused and fairly short and, of course, have your clear call to action front & center.
Monday, December 2nd – Cyber Monday
A reminder email about the stellar online deals available on your eCommerce website!
Tuesday, December 3rd – #GivingTuesday
This one was news to me! The Tuesday after Cyber Monday this year will mark the 2nd annual Giving Tuesday, a movement to drive donations to causes rather than sales and a day for Nonprofit Organizations to take advantage of holiday buying season.
Friday, December 13th – 12 Days Until Christmas
If you're thinking of doing a 12 Days countdown, your 1st day would be today!
Monday, December 16th – Free Shipping Offer
Depending on how you structure your free shipping offer for holiday orders, you may make this date the last that buyers can receive free (ground) shipping on their order before Dec 24th.
Friday, December 20th – Last Day to Ship Offer
Typically, this is the day you'll advertise as the last day to order and still receive your packages by Dec 24th (i.e. fulfillment on the 20th, shipment on the 21st or 23rd, overnight for arrival on the 24th).
Sunday, December 22nd – 10-day Countdown until the New Year
Fitness, health and other "resolution-type" companies may want to do a 10-day countdown to the New Year with the New You! This would be your first day of that countdown.
Tuesday, December 24th – Christmas Eve
Wednesday, December 25th – Christmas
Thursday, December 26th – Kwanzaa
Tuesday, December 31st – New Year's Eve
Wednesday, January 1st – New Year's Day
Happy Holiday (Marketing), all!
---