emfluence and our client, Indigo Wild took home not one, but two AMBIT Awards this year and our Marketing Manager, Jessica Best, was named Kansas City's Young Direct Marketer of the Year.
The Kansas City Direct Marketing Association (KCDMA) recognized 19 local companies with 18 gold, 17 silver and 18 bronze AMBIT awards, signifying their contributions to solid strategy, innovation and direct marketing. Best in Show went to Sprint for their PB&J Wireless Integration entry, which was literally a jar of PB and a jar of J… a very innovative campaign with a great return.
Indigo Wild's referral campaign, executed hand-in-hand with emfluence, took home two bronz AMBITS for great design (thanks to emfluence design gurus Justin & Andy), clever copy and a whopping 9%+ conversion rate! Congrats go to the ladies of Indigo Wild and Ryann and Chris here at emfluence on work well done.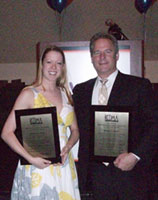 Kicking off the Awards event — with a cool Weird Science theme; no, we didn't build our own dates — was the presentation of the Young Direct Marketer of the Year Award to our Manager o' all things Marketing, Jessica Best. Check out the plaque (she made us post it) & pics from the evening http://idek.net/7Qy.
Follow Jess @bestofjess and the emfluence @emfluence on twitter for more news (and email marketing tips of course).
---