Why must brothers compete? Email marketing and social media are both about connecting with an audience that said they want to hear from you. Better yet, that like you. So why wouldn't they work best together? Across marketing, integration is the (buzz) word. We wrote in August about how adding social media to your email sign-up form can help you show your audience you're everywhere they want to find you. It keeps them engaged longer than just giving over an email address and waiting for the first edition.
By the same token, social media marketing can help you grow the reach of your email marketing campaigns. You work hard on a brilliantly composed monthly recap of what's going on in your industry. You create and curate phenomenal content. It gets sent out via email and — statistics say — about 40% of your audience reads it. Bummer. Does this mean 60% of your list doesn't like you? Hardly. Studies also show that it's often a different 40% that open and read each of your emails, so you're still reaching your friends, just not as often as you'd like.
Enter social media. Social media has a natural sharing effect (buzz word alert: virality) that can carry your content across digital media. Here are a few ways to let your social channels boost your email marketing campaigns:
Before your email actually deploys, schedule a post — a tweet, Facebook status update, etc. — telling your audience that your super email content is coming soon and offer them a link where they can sign up to receive your emails right in their Inbox.
When your email campaign is out, tell the world! Schedule a post that links to your post/archive or post the link to the web page version of the message. Some of them have seen it in their Inbox already, but you're sure to increase your audience reach.
If your tweeps (Twitter friends) want their content in 140 characters or less, go on… give it to them! Piece-by-piece. You can schedule tweets to go out at regular intervals, offering up the tips you share via email, one bullet point at a time.
These are just a few of the ways social media can boost your email marketing. And you don't have to hover over your Twitter account all day to do it. Be sure you've got a system to help you create, schedule and track your social media messages. Line 'em all up and let 'em trickle out. Very important: be sure you're monitoring your results! You'll never know how much more powerful email and social are together if you don't measure.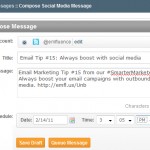 There are lots of tools out there that schedule or measure link traffic for you. emfluence offers the social media Emphasizer as part of our digital Marketing Platform, which allows you to create, schedule and track your social media posts, alongside your emails and landing pages. Give us a shout if you want to see it in action. If you're already using the emfluence Marketing Platform, just call your account rep to get started.
What ways have you used social media to enhance your email marketing campaigns or vice versa?
---