Brands too often forget the importance of using their email audience to drive social interactions. Just putting share buttons on your blog, or promoting individual blog posts via social media isn't enough. By sending targeted email campaigns that feature content from your website, you're more likely to see a spike in shares, especially if you include share options within the email itself.
For example, this is a graph of social shares from a client's website. Can you guess which day the email was sent?
Social Shares Post Email Send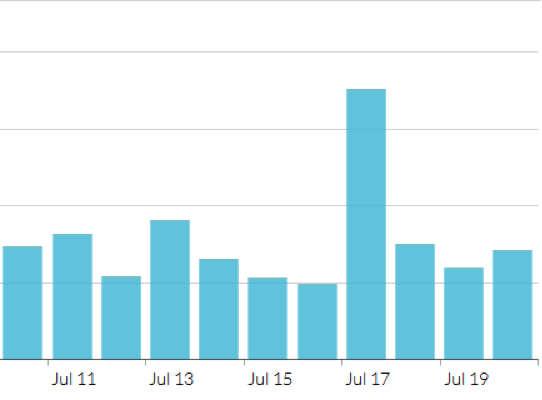 Cross-promoting your blog and website content via email and social media marketing has many benefits. Not only does it reinforce branding and help increase content exposure, but it makes your content work harder for you. Blog-driven emails, for example, are a quick way of generating fresh email content on a regular basis to your audience. Simply pull in a snapshot of the latest 3-5 blog posts from your website and send. But it shouldn't stop there.
By making the content in your emails easily shareable, your monthly blog post can stimulate user engagement. That is, comments on your blog or shares to Twitter, Facebook, LinkedIn, etc. If your target audience includes millennials, you know the heightened influence peer content can have on purchasing decisions and brand perception compared to other types of media. For 95% of millennials in the US, friends are the most credible source of product information, according to a report from SocialChorus.
An Easy Way to Promote Sharing
A quick way to make the content in your emails easily shareable is ClickToTweet. You may have used this function on your blog itself and the concept is essentially the same. If you're not familiar with it: it allows readers to tweet a quick snippet with text, images, links, etc. – perhaps a portion of a blog post rather than the whole article – and allows marketers to pre-fill a message for users to easily share an article, web page, etc. The service allows you to compose a tweet for your users, then generates a link for you to plug into your blog, email, etc. for easy sharing.
Example: Click to tweet if you're a smart marketer.
You can also manually create "Tweet This" links. In the example below, CommunityAmerica encourages its subscribers to tweet individual posts from its Empower blog directly from the email.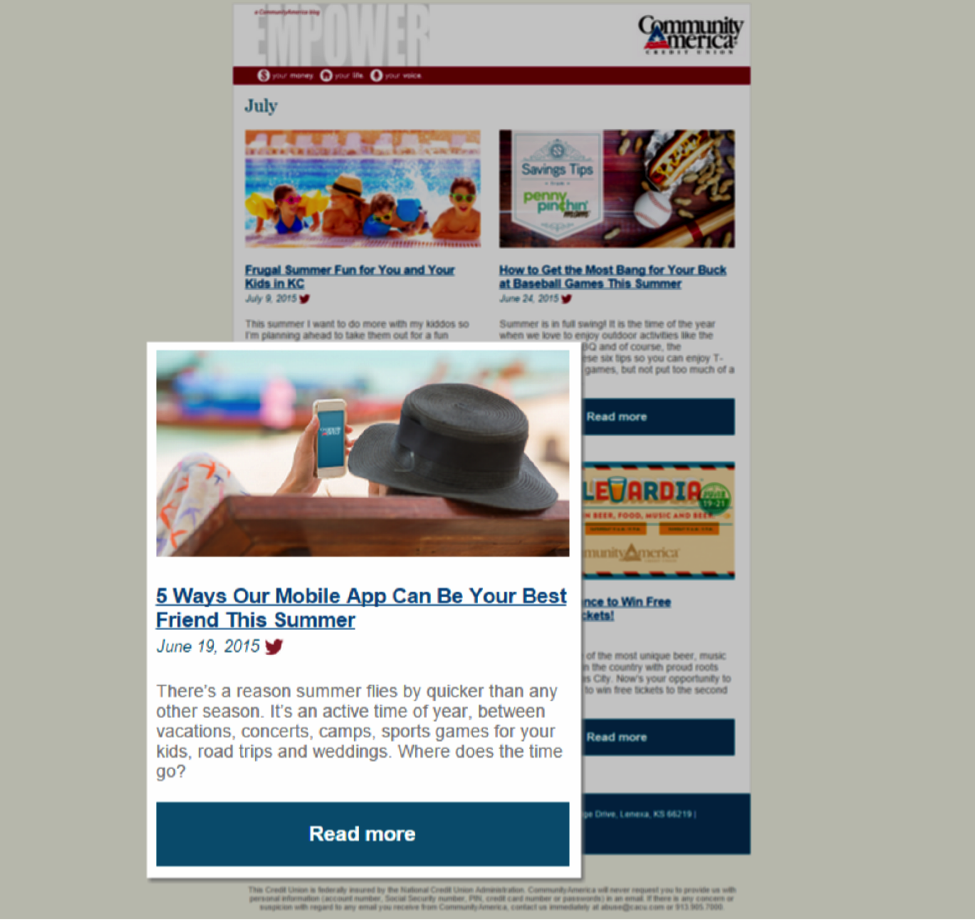 The Twitter icon link looks like this:
http://twitter.com/home/?status=5+Ways+Our+Mobile+App+Can+Be+Your+Best+Friend+This+Summer+https%3A%2F%2Fwww.communityamerica.com%2F5-ways-mobile-app-best-friend-this-summer+via+%40CommunityAmerCU

You'll see the message that's pre-populated is placed directly after the first part of the URL:
http://twitter.com/home/?status=

[more]
Try it yourself and let us know how you like to use email to drive social interactions.
For more tips and tricks, check out Jess' post on other ways social media can boost your email marketing.
---