In 2013, Twitter announced that it would be testing an exciting new addition to its suite of marketing tools. Realizing that marketers saw value in converting social media connections to email contacts, Twitter introduced Lead Generation Cards. Think of these cards as mini lead generation forms that you can attach to tweets. Twitter Lead Gen Cards are free and easy to set up via ads.twitter.com. We've been working with a client on their campaign, so allow me to break down the anatomy of a Twitter Lead Gen Card, the setup and how you can collect leads via Twitter that feed directly into your emfluence Marketing Platform account.
The Anatomy of an Excellent Twitter Lead Gen Card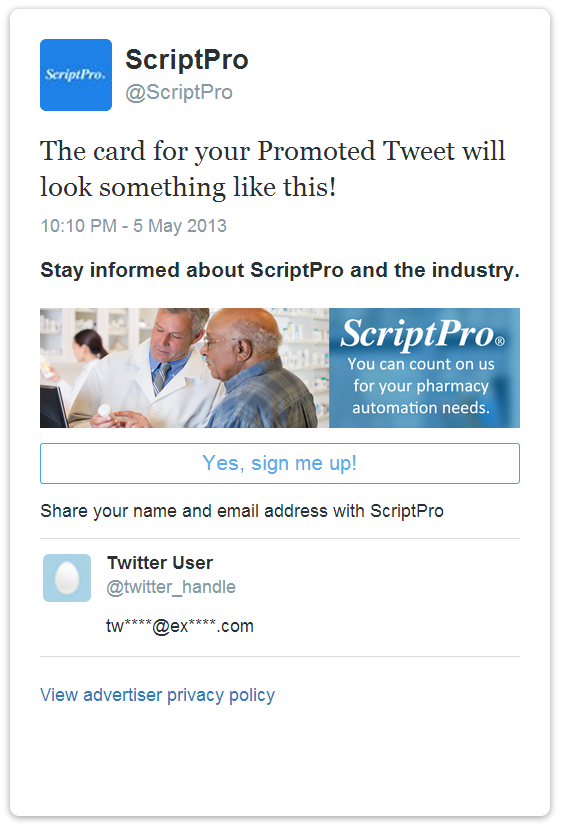 Twitter Lead Gen Cards can be thought of as an email sign-up form attached to a tweet. Above the card, your tweet will display normally (where it says "The card for your Promoted Tweet will look something like this!" in the example). Make it as enticing as your most successful tweets. When a user clicks to "expand" the tweet, s/he will see what looks like an ad. A Twitter Lead Gen Card has about a sentence of opening copy, an image or graphic, a call-to-action button and link. The user is also able to see what information they'll be sharing with the advertiser when they click the call to action button and a link to the advertiser's privacy policy.
Creating a Twitter Lead Gen Card
First, sign in to ads.twitter.com using your Twitter account. Even if you will not be paying to promote tweets, you need to connect a credit card to this account to get the full functionality of the Twitter Ad platform.
In the top dashboard, click "Creatives" and then "Cards." From there, you can click "Create Lead Generation Card."

Have these items ready to fill in for your Twitter Lead Gen Card:
Card Content
Short Description: Describe the benefit the user will get by sharing their information with you (50 characters).
Card image: Select an image that supports your ad that is at least 800 x 200 pixels. Images must have a 4:1 aspect ratio.

Call to action: Craft your call to action button copy (20 characters).
Privacy Policy URL: A link to a privacy policy that explains how you handle and use contact data.
Card Details (Fallback URL): Provide a link where users can learn more about your offer or business after they submit their information. Users will also be directed to this page if they view the card on a non-supported platform, i.e. Hootsuite or another third party Twitter client. Choose a page that will educate and interest the prospect and include a backup lead generation form so you don't lose them.
Destination URL Settings
These are optional settings, but we recommend you set them up, to thank the prospect and maybe ask them to learn more.
Post-submit message: The contact will see this copy after they submit the lead (100 characters)

Example: "Thank you for signing up! Check your inbox for a message from us."

Destination URL: If you'd like, you can add a URL below your post-submit message, you can add a URL here and the user will see a "click here" call to action. In this case, you may want to change your message to say why they should click, i.e. "Thanks for signing up! Read about a company like yours who had great success with our product.
TIP: For all URL fields, make sure you set up unique URLs for each field and each campaign with the Google URL builder so you can clearly break out the results of your campaign in Google Analytics.
Data Settings
The data settings enable you to feed the email leads that you collect from your Twitter card directly into the emfluence Marketing Platform. Just use the emfluence Submit URL below!
Submit URL: Type or paste the URL provided by your email platform or other database that your leads will be submitted to. This is often an HTTP Post URL. If you are sending your leads into the emfluence platform, use: https://emailer.emfluence.com/app/webservices/subscriptions/

Don't forget that last trailing slash – you MUST have it!
Select "POST" as the HTTP method

User Information to be submitted: To capture your user's screen name, along with their First and Last Name and Email address, assign the Screen name data to the custom field of your choice in your emfluence account. In this example, we're assigning to Custom1 and you can see that it sends "bestofjess" to the emfluence contact record for @bestofjess.


Custom hidden data values: This is where you'll designate your APIkey (the number that identifies your emfluence account) and your listID number (the group that you want your leads to be added to).

Add a hidden data value called APIkey and then type or paste your emfluence API Key as the value. emfluence users can get their API key by reaching out to your account rep or support.
Add a hidden data value called listID and then type or paste the Group ID number(s) for the groups you'd like to feed. You can find your listIDs in your emfluence account, by hovering over a Group name and clicking "options". You'll see the six-digit ID number in the upper right. To add your new contacts to multiple lists, enter multiple listIDs, separated by commas.

Click "Update Card" and test your card to make sure your contacts will flow seamlessly from Twitter to your emfluence account. You can now schedule a tweet via the Twitter Ads platform and attach this card. You can even make this tweet part of a promoted tweets campaign to target an audience by keyword, hashtag and more.
There are dozens of ways to use Twitter Lead Gen Cards to convert Twitter users into email contacts. Use a compelling offer and promote tweets along with a Lead Gen Card. Or, you could use your Lead Gen Card to collect email addresses at a conference by targeting the hashtag for the event. The cards are free to set up and attach to tweets, but marketers report that they get the most engagement out of these cards when they're used with a promoted tweet campaign.
Twitter has done a great job of recognizing how marketers can achieve real value through social media – by collecting leads – and have helped launch them into action with the Twitter Lead Gen Card toolbox. Your 140 characters just got a heck of a lot more valuable.
---