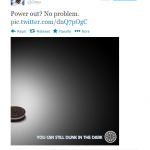 One of the biggest buzz words (buzz phrases) at South by Southwest Interactive this year was "real-time marketing." A growing concept, RTM hit a spike after Oreo tweeted "you can dunk in the dark" during the Superbowl blackout. (Read my post about Oreo's real-time tweet here.)
Far be it for a hot topic to go without a spotlight at SXSW (despite the fact that the line-up was already set 2-3 months prior)… A week before SXSWi, Expion, 360i and their client Oreo (Mondelez) announced a "pop-up" panel, outside the official line-up of SXSW programming and it was one of the best for content. My top 5 takeaway points from the panel:
It is unreasonable to have your team read every tweet every moment of the day. Your monitoring system has to find the relevant content and be smart enough to alert you when to act.
If your executives are asking for ROI and sales attribution for social media efforts, ask them to invest in measurement tools. Oreo can prove their ROI because they use tools like Expion.
TV advertising and Twitter are described as "matching luggage" by the panelists, meaning they were born to work together for all campaigns.
Real-time marketing – like Oreo's tweet during the Superbowl blackout – doesn't just happen. The Oreo social media team spent the 100 days leading up to the Superbowl practicing real-time engagement with their "perfect twist" campaign.
"Don't just test and learn… DO and learn! Believe these social channels work and invest in them and keep getting smarter all the time." – Gary V.
The panel stressed the importance of using tools and training to make great real-time marketing a success. And most of all: practice makes perfect. Get out there and give it a try and start learning!
---