Let's start by covering the basics – what is a survey? A survey is defined as a research method used for collecting data from a pre-defined group of respondents to gain information and insights on various topics of interests. That's just a long-winded way of saying that surveys can be used to collect data. And as marketers, we LOVE data! The more data we have, the more targeted we can make our messaging to specific audience segments.
When to Use Surveys in your Marketing Campaign
There are so many different types of surveys that you can use throughout a project and/or a campaign, some of which are included in a marketing automation platform (like our emfluence Marketing Platform) and some of which are served through stand-alone survey software tools. I want to take some time to discuss some of the types of surveys that I use more frequently and talk about why they have been a helpful resource to me. Maybe after reading about my experiences you will find the inspiration you need in order to implement one of these surveys into your project processes and procedures!
Types of Marketing Surveys
Stakeholder Survey
Before kicking off almost any new project, whether it be an internal project or a project for a client, it is important to make sure you are including all of the appropriate stakeholders and allowing them to be involved. Once you have identified the stakeholders that you would like to be involved in your particular project, the next challenge is to ensure you are obtaining the same desired information from each of the stakeholders. This is where stakeholder surveys come into play.
I have found it to be very successful to send stakeholders an online survey. This allows for them to take the survey when they feel like they are most prepared and it helps take some of the pressure off of them when answering the survey questions because they are able to freely answer the questions on their own as opposed to having someone ask them the questions directly, when they are put on the spot to determine their answer.
Once you receive all surveys from the stakeholders, you can then begin the process of going through responses and identifying any of the questions where multiple stakeholders had the same response. This is usually a good indicator that you may want to look further into this particular question since there seems to be a common trend in how stakeholders are responding.
Customer Satisfaction Survey
One of my personal favorite surveys to create and implement in a campaign is a customer satisfaction survey. I love this particular type of survey because it gives you so many different insights into what you or your company are doing well, as well as what areas need some improvement. You should always encourage your customers to leave their feedback on the level of service you have been providing them.
A great example of a company that is consistently looking to improve their customer experience, and thus improving their overall customer satisfaction, is Adobe. Below is an email that I have recently received from Adobe, asking me to take a 20-minute survey, via email. Although, I feel like 20 minutes is a tad bit on the long side for a survey, I do appreciate the fact that they are using a $500 Amazon gift card to entice me into leaving my feedback. I also like the fact that this is a simple survey that is sent via email and it allows me to take it on my own time.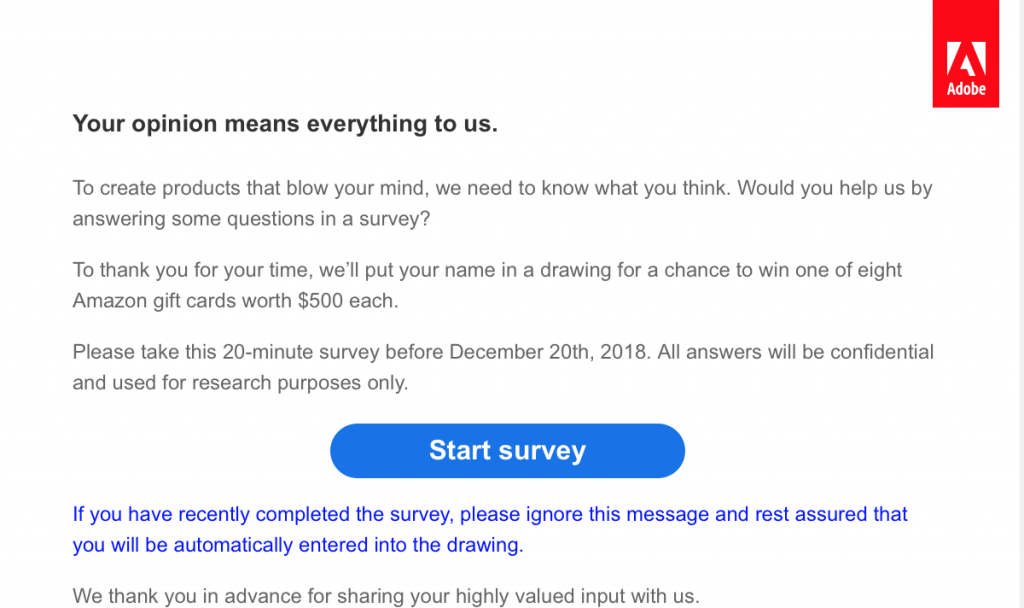 Year-End Recap Survey
The year-end recap survey is a survey that is sent out once a year. It's not really an official survey type, but it is still very important for data gatherers looking to answer specific market questions. The purpose of sending a year-end survey is to get opinions from anyone and everyone that has purchased a good or service from you in the last year. You essentially want feedback from everyone, because remember, feedback is data and we love data!
I think that Really Good Emails did a great job when they sent out their year-end recap survey. Not only are they asking you for your opinion on how the last year went, but they are doing it in a fun and entertaining way to hopefully get more people to engage with the survey. Not all surveys are fun and games, but by sprucing up your copy a little bit, it can really catch people's eye and encourage them to leave their feedback.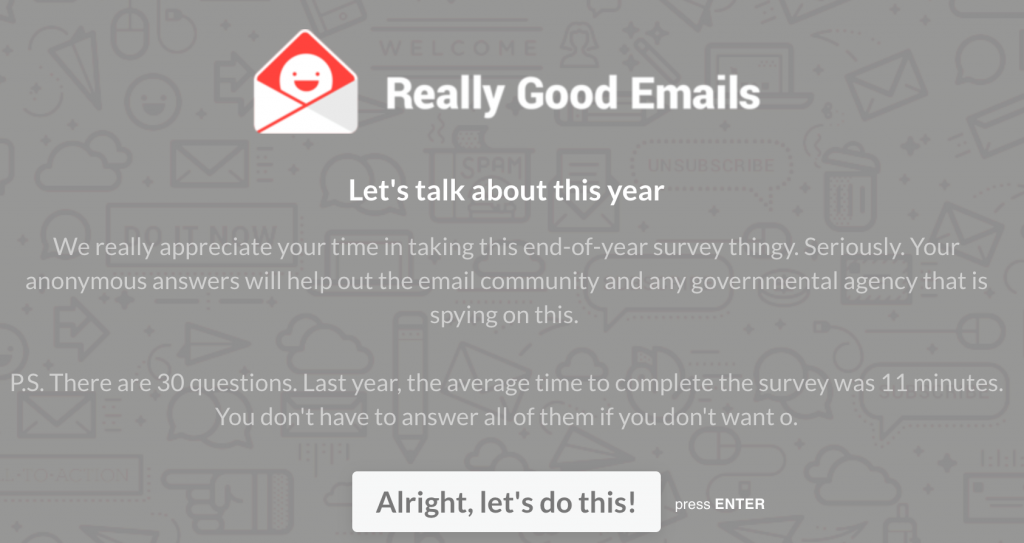 The Post-Event Survey
Events are a marketing staple for B2B marketers, but how do you know if they are benefitting your overall marketing strategy? Run a post-event survey!
Post-event surveys allow you to discreetly ask your event attendees a series of questions, including how they felt about the venue, the speakers (if you had them), parking, food, etc. But that's just the start—you can also use a post-event survey to crowdsource event planning for the future. Ask your audience if they have recommendations for future speakers, venues or topics, and then use that information to plan better events with better targeting.
Here's an example of one we use for our quarterly Beer + Learns (and we also run them for our annual And Then Some Conference in August):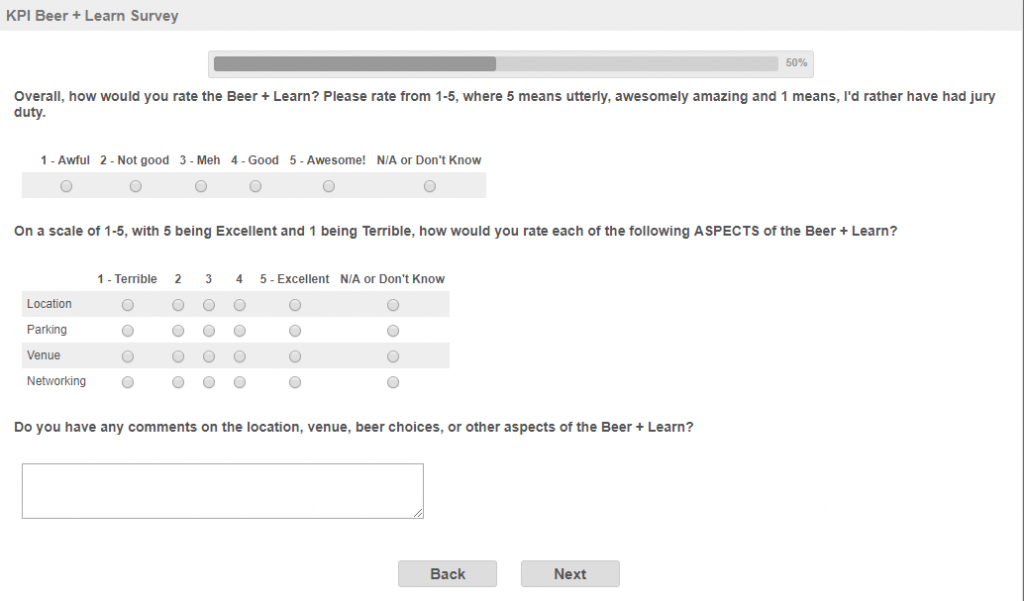 As I mentioned earlier, there are SO MANY different types of surveys that can be created and used. Surveys are by no means limited to these four examples. But, if you are new to creating and implementing surveys, then maybe one of the examples we talked about today will be a good starting point. Just remember, surveys are a tool that us marketers can use to gain insights and data from our customers, which in turn makes us better marketers. At least that's how I like to look at it!
---