"With great power, comes great responsibility!" As the famous Peter Parker (aka Spider-Man) would say, building out an ecommerce website is no easy task, but the results of having one could bring you an average increase of 230% between year one and year three in revenue. Of course, actual revenue depends on your business, but the chart below should give you some great motivation to find out what having an ecommerce website could mean to you and your company.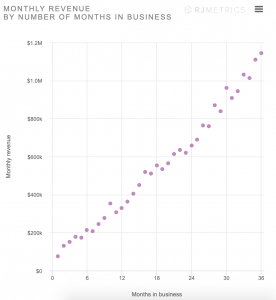 Motivation, CHECK!
Great, now comes the hard part. In this blog, I will provide you with a list of things to consider before building out an ecommerce website. Do note that the items listed below may require deeper investigation than what I am providing, but it will give you enough food for thought to get you started – I'm even providing you with a handy tool to help you get started.
Setting Business Goals
Before anything, knowing your business goals for the first five to ten years is a must. To help determine your goals, identify your target market, customers, their shopping habits and spending power.
In addition, you'll want to consider future short-term and long-term growth. When thinking of short-term goals, think of special dates like holidays and events that spike sales. Long-term goals occur over several years.
Knowing this information will come in handy when identifying key features and tools your website must have in order to be successful.
Prepping Financially
It's no secret that having an ecommerce website will be one of the biggest and most expensive investments (if done correctly) for your business. But how exactly do you know how much you should be spending on a website?
Well, let me introduce you to emfluence's very own website ROI calculator. We've built a tool to assist you with determining how much business your new website will need to drive in order to pay for the design and development costs.
The Ecommerce Website ROI calculator asks for the average deal size and your proposed one-year website cost. If different, input the average shopping cart conversion rate –(the baseline is 3%) and click Submit. Results will be emailed to you instantly.
Competitor Analysis
"Niche-based sites are easier to promote because they have less competition and are more targeted than their generalized counterparts." – Floship
Study up on competitor and other ecommerce sites (including different industries) that are doing things right. Build on what's already working and start your wish list—focus on design, features, checkout processes, CTAs and SEO.
Don't forget to have some fun with it and use SEM tools like Ahrefs to run quick and insightful competitor analysis while comparing your site with theirs. By doing so, you'll find out how they're getting their traffic, what keywords they're ranking for, what keywords they're bidding on, etc. Please note, when choosing the right partner agency to build your site, they should and will be running an in-depth competitor analysis as part of their plan.
Define Your Internal Team
Think about post-launch efforts and the amount of time it will take to keep the website secured, relevant and up to date. One of the biggest issues with running an ecommerce site is that it takes a lot of time and effort, perhaps more than other sites.
Someone within your organization will need to either manage it themselves or work as the main point of contact with your development agency to help manage it.
Either way, don't let this catch you by surprise. Plan ahead to ensure you have the right resources available – bodies and budget – and have them be involved in the process so they're in a better place come launch.
Software Requirements and Customizations
You can begin preparing your business for both short-term and long-term growth by choosing the right content management solution (CMS). When researching a potential software (Magento, BigCommerce, WooCommerce, Shopify, etc.), keep in mind that you'll need a CMS that can support your current and future projected inventory amount. Remember those 5 and 10 goals?
Set a list of the features and extensions you want to add to the site. After this, make a proper plan for the customizations and extensions that you are planning to incorporate. Being this prepared and knowledgeable of not only the CMS platforms that are out there, but what you want for your business, is key for helping with the next very important step–—selecting the right development team/agency.
Selecting the Right Development Team
Your business can leverage the expertise of a digital marketing agency to help design, develop and maintain a well-thought out ecommerce website that encompasses everything you need in order to bring your customers and potential customers the content and user experience they both want and need and bring you, the business owner, the right tools to navigate through a secure and well-built site.
The agency you select plays a large role in the success of your online business, so choose carefully. Here's a quick list of things to look out for when choosing an agency to work with:
You must work well together
Communication is key!
The agency must have a good grasp on your business, goals and KPIs
Lean towards selecting a full-service digital marketing agency that offers hosting, web development, SEO, analytics, paid media and strategy. Bonus: Email marketing! Wait, that's emfluence!
Define all of the phases of the project and your involvement throughout
Ensure there are plans, processes and procedures around design, development, budget, documentation, QA and reporting
Is there a discovery period? If so, what does it entail?
Know the post-launch plans including security alerts, training and on-going maintenance of your website.
Lastly, ask for referrals…and contact them!
Final Thoughts
There are a lot of things we may have missed, but those are the general items you should think about before you build an ecommerce website. Building an ecommerce website is a big undertaking and investment. Make sure you do your due diligence. We'll be ready to start a partnership when you are!
---