Some Backstory
First off, emfluence uses Amazon Web Services for all of the hosting that we provide. Before starting at emfluence, all of my server management experience had been on local servers, or providers who only did hosting. I had zero experience using any of the offerings of AWS and as you can see below, there are a lot of services that they offer.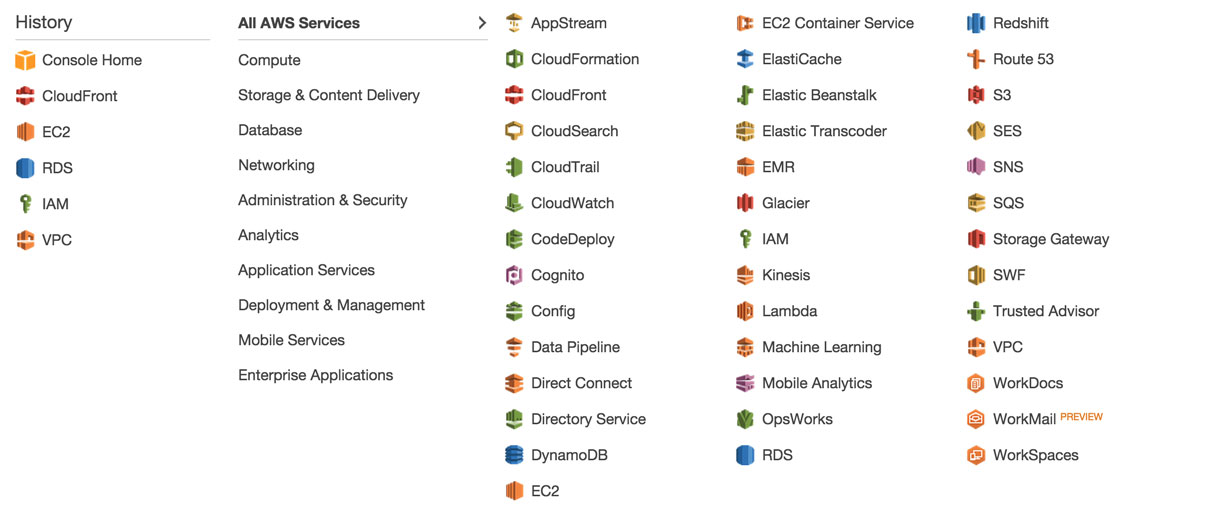 Wanting to learn more about AWS—and before realizing how many services they offer, I decided to take it upon myself as a goal for my first year of employment to get one of the AWS certifications. After looking through the certifications that Amazon offers, I came to the conclusion that the Solutions Architect – Associate level certification seemed like the best fit for the services emfluence provides. Next up was the task of figuring out the best way to learn the necessary materials needed to pass the certification exam.
Study, Study, Study
When I finally started studying, I still had minimal experience using AWS. Other than working inside of an instance, the only experience I had gained was resizing an instance and rebooting one.
Amazon does offer some courses for their certifications through a third party, but they're all quite expensive. After searching around, I was able to find a highly recommended course on Udemy (https://www.udemy.com/aws-certified-solutions-architect-associate-2015/) that promised to teach you all of the information you'd need to pass the exam, and it provided a lot of hands-on labs throughout the process.
The one thing that I can't stress enough is to read the whitepapers that Amazon tells you to in the exam blueprint, especially the one pertaining to security. Data security is about 20% of the exam and you must have a 65% or better on the exam to pass. If you don't study the security whitepaper, you'll easily miss 20% of the exam, and that doesn't leave much room to miss other questions.
Each service also has an FAQ that you can read through to gain more specific information. I would suggest you read as many of them as possible. I found them very helpful and gained some knowledge that the Udemy course didn't provide … and even ended up on the exam!
Exam Day!
After about 40 hours of studying and practice exam, I was ready to take the real exam. One thing to note, if you decide to take the practice exam provided by Amazon, only do it once. You'll be given the exact same questions every single time, so spending the money isn't necessarily worth it.
I was pretty nervous about taking the exam. It had been almost 10 years since I had taken an exam for a certification and I remembered how stressful those were.
When you arrive at the test-taking location, they'll log you in and make you completely empty your pockets. You're not allowed any personal belongings in the room with you. You are given 80 minutes to complete 55 questions, which is plenty of time to really pace yourself and carefully read each question.
None of the questions are really "trick" questions, although they do try and trip you up with "Availability Zone" and "Region" on a few of them. If you take your time and really read each question, these are easily spotted and won't cause any problems.
In the end, I easily passed the exam with plenty of time left on the first try. It was a huge weight off of my shoulders because I was worried that I'd forget some of the details that I had crammed into my brain in such a short amount of time.
[more]
The Future
I do plan on continuing to get additional AWS certifications. I've already got the study material lined up to get the AWS Certified Developer – Associate certification. Supposedly, this one is fairly easy once you have gotten the Solutions Architect – Associate certification. After that I'll probably just round out the Associate level certifications and get the SysOps Administrator certification. I have heard that the Professional level certifications are much, much harder and require a lot of hands-on experience.
If you plan on getting an Amazon Web Services certification, I wish you the best of luck. Just take your time while studying and exploring the AWS platform, and you'll do just fine.
---